Bed Bug Introduction
For Apartments & Condos

When bed bugs take root, life can become a nightmare for a property manager. Whether you have a few single-family homes to manage or a large complex with many apartments, bed bugs can create serious issues. These insects have a strange impact on renters. While you are not the reason they have bed bugs, they can still lose confidence in your ability to provide a pest-free environment.
For this reason, the education of tenants is a primary factor in dealing with the threat of bed bugs before, and when, bed bug infestations begin. This education effort should extend to maintenance staff and other employees who may have to field questions about a bed bug infestation. It is essential that your tenants know that you are capable of addressing this problem for them.
Bed Bug Identification
When a bed bug first hatches, it is 1mm in length, pale in color, with six legs, two antennae, and three body parts. The skin of a bed bug is mostly transparent, revealing any blood or black feces inside its abdomen. As a bed bug grows, it becomes tan in color and eventually a rusty-brown.
Though an adult bed bug is not nearly as transparent as a newly hatched nymph, blood inside its abdomen can make it appear more reddish. The abdomen of a bed bug has crease lines that run from side to side. Crease lines give bed bugs a distinct appearance.
Key Bed Bug Facts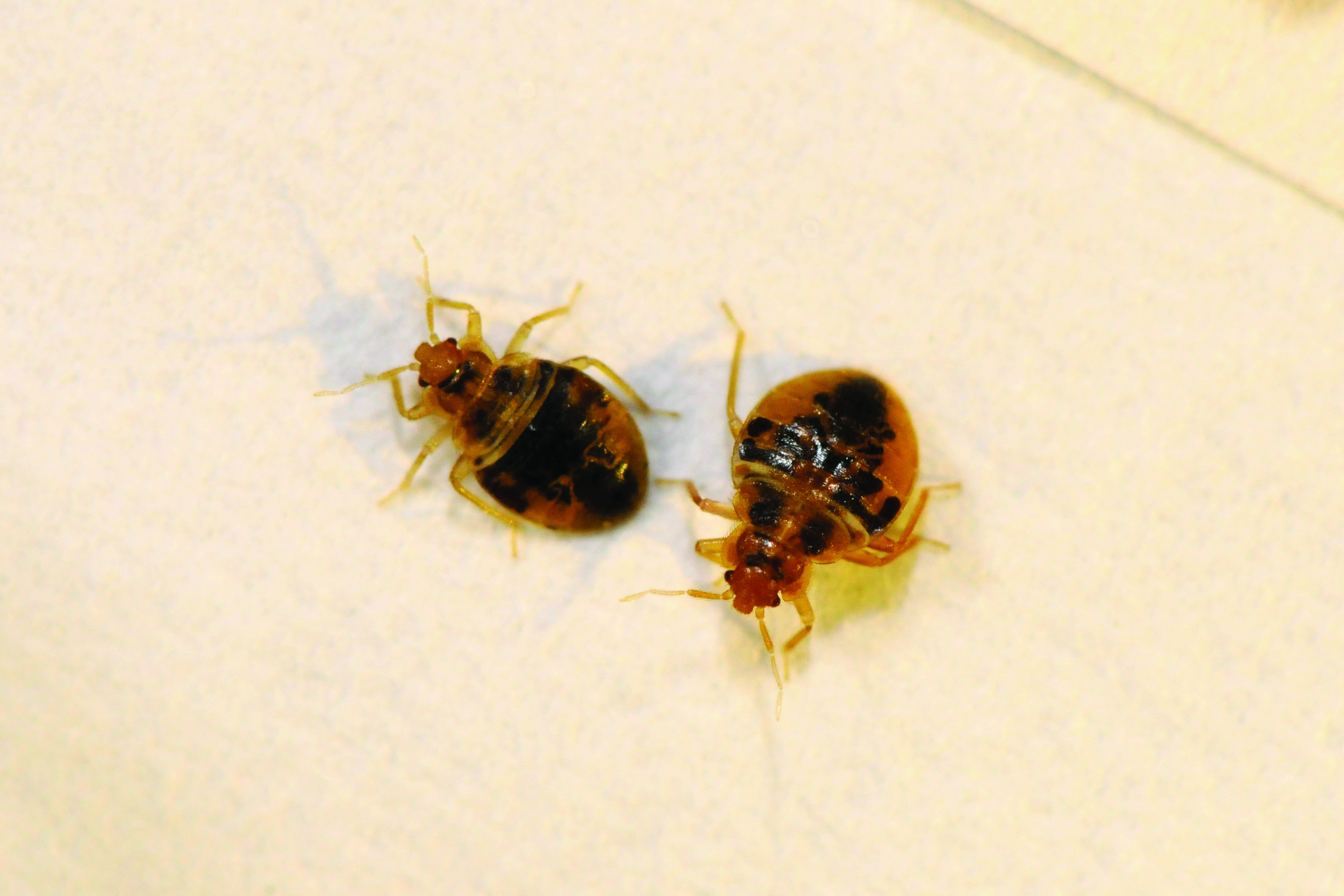 The more you and your tenants understand the basics about the spread of bed bugs, the more likely they will be to inform maintenance or staff quickly, and the faster you'll be able to address the problem. A quick response can help you isolate the issue, preventing these insects from causing widespread discontent.
Bed bugs don't come in from the outside on their own. They actually hitchhike into homes by clothing, bags and more.
Bed bugs can infest any place, residential or commercial, clean & dirty. They do not have a preference if a blood meal is found.
A tenant should never feel embarrassed to report a bed bug problem or think that it is necessary to try and address the problem discreetly. They should be encouraged to notify management of an infestation as soon as they appear.
Bed bugs don't just come from hotels and motels and they are found in the most surprising locations.
Bed bugs can spread in the daytime and pass through wall voids from one apartment to the next.
Bed Bug Prevention Steps For Property Managers And Maintenance Staff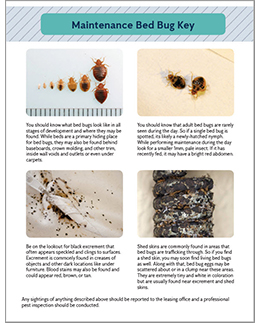 Well-informed staff members are crucial to preventing the harmful impact bed bugs can have. When questions come up, all staff should be able to quickly respond and offer guidance for correcting this problem for tenants. Staff should also be engaged in proactive educational efforts to make tenants aware of this threat and what measures are being taken to prevent infestations. To assist in educating staff of the importance of bed bug inspections and steps to keeping them out, download the pdf for maintenance by clicking HERE. This 1-page download is easy for you to provide or email to staff.

Your maintenance staff are your eyes and ears, the first line of defense in the event of a bed bug outbreak. They let you know if tenants are damaging a unit. They inform you of critical issues that can impact the comfort of tenants and create dissatisfaction. They can also keep you informed of bed bug threats if they know what to look for.
Understand that maintenance and staff should be prepared to assist in this process, not handling the pests themselves. Seek immediate professional assistance if there are signs of an infestation and download the guide for maintenance staff HERE as a tool for staff to reference in the event of bed bug activity.
Why Bed Bugs Are So Difficult To Treat Alone
When bed bug infestations take over, it is essential to seek the assistance of a licensed professional. These bugs are tough to control without training and experience. Bed bugs have been dwelling almost exclusively with humans since the dawn of time and have become really good at resisting many extermination efforts. In fact, they're wired to elude extermination. Yes, that is as scary as it sounds. Their natural behavior patterns help them avoid danger in their surroundings.
If you try to kill them with a fast-acting toxin, they may go into dormancy and wait till the threat is gone or be driven into an adjacent apartment. Neither of these outcomes will solve your problem. And, to make matters worse, bed bugs can grow resistance to chemicals that are used to wipe them out. An incorrect application of insecticides can lead to superbugs that are even more resistant than before.
Why Property Managers Turn To American Pest For Bed Bug Treatments
In the D.C., Maryland, and Northern Virginia area, bed bugs are a growing threat. Our team, which includes on-staff, board-certified entomologists, has met this ever-increasing threat by developing a comprehensive bed bug treatment strategy that is effective at tracking down bed bugs and thoroughly exterminating them. The methods we use can be adapted to address infestations of any size and may include:
The use of K-9 bed bug inspectors to quickly and efficiently track down bed bugs before and after treatments. Dogs can sniff for bed bugs with incredible accuracy with little or no disruption to the objects in a room.
Human inspections conducted by highly trained service professionals who are experienced in uncovering the warning signs of a bed bug infestation quickly.
The proper deployment of specialized mobile heating units that are designed to raise the temperature of a room or rooms to between 120°F to 135°F, which is enough to eliminate bed bugs in all stages of development.
An application of residual products to ensure complete elimination and prevent a resurgence of bed bug activity after the treatment.
Guidance on the implementation of bed bug mattress encasements and other personal protection items, if needed.
Assistance with the education of staff.
American Pest is a leader in the pest control industry. Our team has earned the Angie's List Super Service Award for several years, an Award of Excellence from the United States Department of State, and the QualityPro Seal of Excellence from the National Pest Management Association, among others. When you need the highest level of service at a competitive price, American Pest is the right choice. Reach out to us today for a consultation. We're here to help.
Contact Me About Pest Control
Fill out the form and recieve feedback in less than 5 minutes. For immediate service please call.


Pest problems? Give us a call for your free site evaluation. (855) 212-3677