American Pest, a Subsidiary of Anticimex, Acquires MidAtlantic Pest Services
08/01/2017
News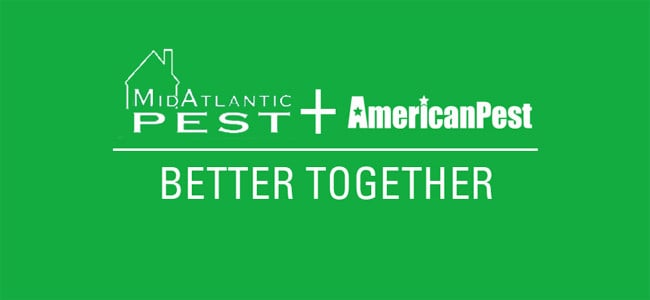 American Pest— a subsidiary of Anticimex and US Capitol region's premiere pest management firm—acquires MidAtlantic Pest Services in latest acquisition.
Fulton, MD, August 1, 2017—American Pest, Washington DC's time-honored pest management company, acquires MidAtlantic Pest Services—a family-owned and operated pest control company that services Maryland, Delaware, and Pennsylvania.
MidAtlantic Pest has been providing its customers with pest control and wildlife services for over 25 years. They have a solid reputation among their residential customers for offering fast, friendly, and affordable solutions for several common household pests. The organization also provides nuisance wildlife removal.
When asked how he feels about expanding American Pest's service territory, David Billingsly, President of American Pest says, "I am very proud of our team and very much looking forward to our continued growth and the challenges that lie ahead of us. We're not only expanding our client reach; we're offering our new and existing employees more opportunities to develop within a growing organization."
The acquisition of MidAtlantic Pest is American Pest's third acquisition within the past five years. The company previously acquired Barrier Termite & Pest Control in November, 2011, as well as GreenStar Termite and Pest Control in December, 2016. The MidAtlantic deal was brokered by Rand Hollan of Preferred Business Brokers in Ocala, Florida.
About American Pest
American Pest, a part of Anticimex Group, has been providing Integrated Pest Management (IPM) solutions in Washington DC, Maryland, and Northern Virginia since 1925. Our team consists of over 160 brand ambassadors—employees who are experts in pest prevention and customer experience. We credit our longstanding tradition of excellence to our people, who provide quality pest control solutions to over 12,000 homes and businesses and millions of square feet of federal offices and institutions throughout our nation's capital.
Contact: Miranda Sherman, American Pest
msherman @ americanpest.net
www.americanpest.net
www.anticimex.com