American Pest Expands List of Pest Experts with 7 New Associate Certified Entomologists
01/02/2020
News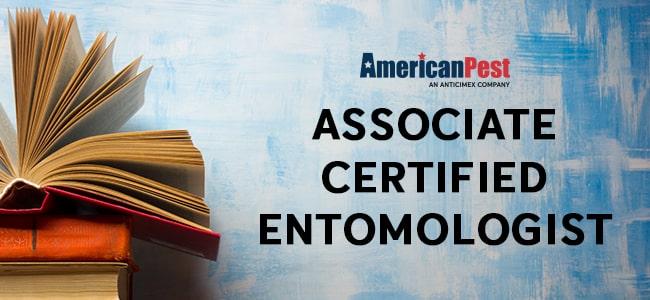 Fulton, MD, December 31, 2019—American Pest, a modern pest control company servicing Maryland, DC, and Virginia has added seven new Associate Certified Entomologists (ACE) in 2019, taking them to a record-breaking total of certified pest professionals.
The ACE program is a benchmark of professionalism in the pest management industry as it provides pest professionals an opportunity to gain credentials and the responsibility to render effective service to humanity. ACE applicants are required to have a minimum of 5 years verifiable pest management experience and pass a comprehensive 150 question exam testing their knowledge of the industry.
David Billingsly, President of American Pest shares, "The hard work and dedication that our newest certified entomologists have provided to American Pest is incredibly appreciated. As we have rapidly grown throughout the year, they each proved that they believe in the American Pest mission of becoming the leader in modern preventative, pest management."
The following members have passed their ACE certification in 2019:
Adam Pheister—a Technician Supervisor at American Pest
Andrea Brubaker—the Vice President of Business Development at American Pest
Augustine Takyi —the Quality Control Supervisor at American Pest
James Christiansen—a Branch Manager at American Pest
Jessie Sanchez—a Technician Supervisor at American Pest
Kyle Beahm—a Pest Professional at American Pest
Tim Pleasant—the Bed Bug Service Manager at American Pest
American Pest is proud to add these hard-working pest professionals to their list of certified entomologists. American Pest now has 2 Ph. D. Entomologists, 4 Board Certified Entomologists, 14 Associate Certified Entomologist, over 140 State Certified Technicians, a K-9 Bed Bug Detection Team, and over 280 pest professionals.
About American Pest: American Pest, an Anticimex Company, has been providing Integrated Pest Management (IPM) solutions since 1925. Our team consists of over 280 brand ambassadors— specialists in pest prevention and customer experience. We credit our longstanding tradition of excellence to our people, who provide quality pest control solutions to over 30,000 homes and businesses and millions of square feet of federal offices and institutions throughout Washington DC, Maryland, and Northern Virginia.