American Pest Obtains Innovative Pest Management In Latest Acquisition
01/18/2019
News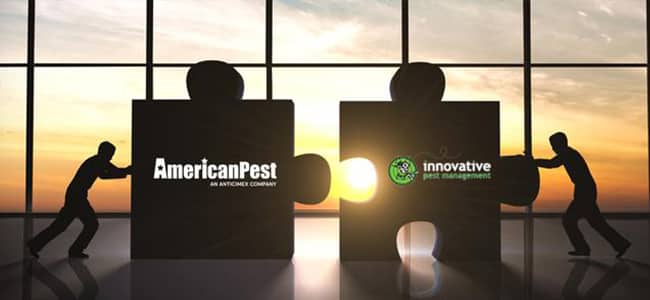 Fulton, MD, January 16th, 2019 -- American Pest, Washington DC's time-honored pest management company, acquires Innovative Pest Management—a family-owned pest control firm serving D.C., Maryland, and Virginia.
Founded in 1992 by Richard D. Kramer, Ph. D and Board-Certified Entomologist, Innovative Pest Management evolved into a full-service pest management firm in 2004 with the introduction of partners Joshua Kramer and Luke Krikstan. The company has a solid reputation in the Washington D.C. metro for offering steadfast, consumer-focused services for local, state and government institutions, private businesses, and residential homes.
"Innovative brings a level of professionalism and quality second to no one," says David Billingsly, President of American Pest. "It is with this latest acquisition that we are especially honored of the expertise and focus on leadership that the Innovative team brings to our own."
Joshua (Josh) Kramer added: "The decision to partner with American Pest will allow us to remain true to our core values—Focus on People, Focus on Customers, Professional Integrity, Spirit of Innovation, Peak Performance and Personal Leadership. And I am confident that as a part of American Pest we will propel our vision, fulfill our strategy, and further accelerate our growth."
The acquisition of Innovative Pest Management is American Pest's eighth acquisition, bringing 46 professionals to its growing team.
Paul Giannamore of The Potomac Company acted as exclusive financial advisor to Innovative Pest Management.
About American Pest: American Pest, a part of Anticimex Group, has been providing Integrated Pest Management (IPM) solutions since 1925. Our team consists of over 230 brand ambassadors— specialists in pest prevention and customer experience. We credit our longstanding tradition of excellence to our people, who provide quality pest control solutions to over 20,000 homes and businesses and millions of square feet of federal offices and institutions throughout Washington D.C., Maryland, and Northern Virginia.