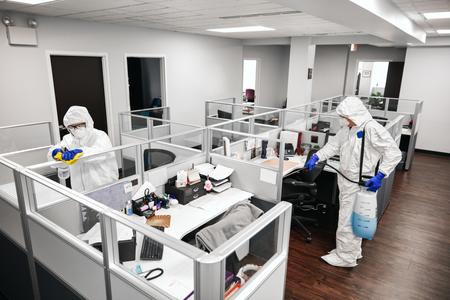 Our world is tackling a crisis of extraordinary human and business impact, and we stand in solidarity with all who have been affected by the global coronavirus (COVID-19) pandemic.
The well-being and safety of our team, their families, and our customers remain our top priority. With that in mind, we are closely following best practices and guidelines recommended by federal, state and local authorities to provide a healthy work environment and minimize disruptions to our clients.
Rest assured we are monitoring this very fluid situation closely and will continue to communicate updates as things continue to rapidly evolve.
The health and safety of our employees and customers is a top priority.
Effective Monday, March 16

th

, all non-essential

office

employees will

begin to work from home

Employees

and/or family members of employees

who appear to have flu-like or respiratory illness symptoms

will be prohibited from work

Routine disinfecting of common work surfaces and shared equipment as well as personal protective equipment (gloves, hand sanitizer, etc.) have been made available to employees

Non-essential travel, events, and group meetings have been cancelled throughout the month of March
Q&A
I do not want someone from American Pest coming into my home or business
We understand your concern, and there's no need for us to come inside. We will perform your routine maintenance outside—where pests like ants are emerging this spring—and should you need additional service on the interior in the coming weeks, we would be happy to come back out at no additional cost to you.
If my business is closed, can you still come and service?
We absolutely can! We are happy to accommodate your scheduling needs by agreeing on a window of time that works for you to meet us at the business (or) conduct an exterior perimeter treatment to get ahead of crawling insect pests emerging this spring.
Why can't I get a sooner appointment?
Your American Pest experience might look a little different as we navigate the impact of Coronavirus together. Our teams are working hard to accommodate all scheduling requests as quickly as we possibly can.
Will there be any changes to the treatment?
While we do not expect changes specific to the type of treatments we provide, we are committed to your safety and the safety of our employees and will not be asking for your signature, unless your agreement requires it.
I just signed up for treatment and am a new customer. I need interior service; will you still do that?
Welcome to the American Pest family! We're so happy to have you as a new customer. Yes, we will provide treatment to the interior of your home (or business) in the event that your pest problem cannot be treated from the exterior. Should you be aware that someone in your household/facility is ill, or suspected to have come in contact with Coronavirus, our professional(s) reserve the right to reschedule interior service for a later date and time.
Do you offer disinfectant services?
Yes. American Pest offers powerful virus protection throughout the District of Columbia, Maryland and Virginia.

Will you contact me if someone from your company tests positive and has been to my property?
We appreciate that this is a concern and assure you that the safety of our employees and clients if a top priority. We are doing everything that we can to mitigate this risk, by following CDC recommendations (which are changing nearly every day) and limiting our exposure to individuals in the work environment and in our client's homes and businesses.