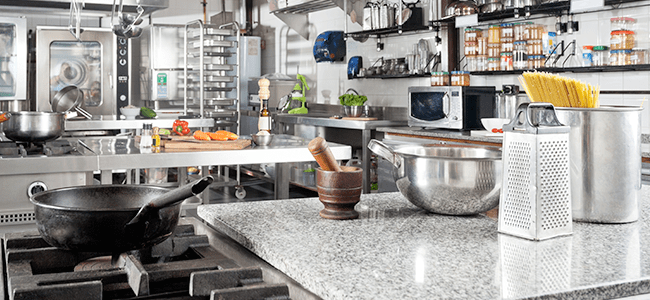 As a business owner that serves food and drinks daily, you're probably already aware of the importance of pest control. After all, one pest getting into a customer's meal could open your business up to a huge lawsuit. That's why having an ongoing pest control plan will help protect you and your business from the risks associated with pests in a restaurant.
Having a pest control program in place can help to rid the property of existing pests while also protecting it from future infestations.
Stopping current infestations and preventing future ones will greatly decrease your restaurant's pest risk and could even help improve your health inspection.
Pest infestations can quickly become a huge problem since they can produce offspring so quickly. This makes regular pest inspections, control, and prevention extremely important so that pest problems don't grow and become increasingly expensive.
American Pest has the skills to recognize an infestation and problem areas long before many commercial clients are even aware.
Pest Identification:
While it is possible for pests to be present without any signs, you can keep an eye out for things that could indicate a possible pest problem. Being able to identify the pest you are dealing with will allow our pest professionals to design a custom treatment plan for your property. If you need help identifying what pest you are dealing with, you can also visit the pest ID section of our website.
Droppings: Many pests leave feces behind when there is an infestation and could even be small enough to only appear as a little dirt. Rodents, however, do have larger droppings and can sometimes help direct our technicians towards a nest.
Food crumbs: Many pests can get into food that isn't properly sealed and rodents can even chew through plastic, cardboard, and more. Not only is this a sign of an infestation, but also a sign of a food storage issue that will need to be solved.
Client sightings: Just because you aren't seeing the pests doesn't mean they aren't there. Many customers will take to social media to show their cockroach or rodent sighting. If they tell you they saw something, take them seriously and give us a call immediately.
Our Commercial Pest Professionals are rigorously trained in pest control and can help you with any pest related problem you may face. They will be able to assist you in designing the best treatment solutions for your property, your restaurant, and your customers. If you would like more information on pest control plans for your business, contact American Pest today for a quote.