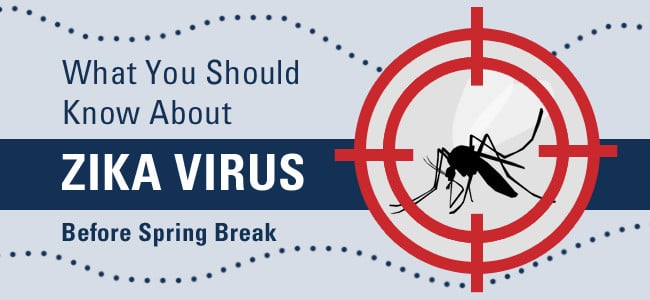 Students from every state will soon be trading in hats and mittens for bikinis and board shorts—just in time to hit the beaches for spring break. The increased occurrence of Zika virus transmission among travelers makes spring break planning a bit more complicated this year.
Planning a trip to south Florida, Mexico, or the Bahamas for spring break? Entomologists at American Pest warn that university students and families should beware of Zika virus when arranging spring break travel plans to southern states or south/central American countries.
"What we know is this," says Dr. Kathy Heinsohn, Ph.D Entomologist at American Pest, "Zika virus has now been found in all human fluids—urine, blood, semen—so it can be transmitted in several ways."
Which vacation destinations should you be concerned about?
Public health officials have issued warnings and guidance for travelers heading to south Florida—where Zika virus is being contracted locally. Popular spring break destinations remain among the areas in and around Miami-Dade County with ongoing warnings.
The Centers for Disease control in Washington D.C. has stated that it recommends that all pregnant women should avoid travel to Miami-Dade County—potentially hampering vacation plans for families heading to Miami's white-sand beaches this spring.
Unprotected sex can lead to Zika virus
Spring break travel brings the added threat of unprotected sex (sex without a condom) and its relationship to Zika virus. Unprotected sexual activity among students poses the risk of obtaining Zika, as the virus is spread unknowingly between adults. Among the demographic most at risk are pregnant women who have engaged in unprotected sex with a partner who has recently travelled to these areas.
"What makes Zika-spreading mosquitoes unique," states Dr. Kathy, "is that unlike other species, Aedes aegypti mosquitoes bite their victims during the day and some can live in non-stagnant water."
Tips to protect yourself from mosquito bites
Take steps to protect your skin from mosquito bites (at all times of the day) by applying an insect repellent containing at least 20% DEET, picaridin or oil of lemon-eucalyptus

Always follow the insect repellent labels and re-apply as directed

Also, consider wearing long pants, long-sleeved shirts and closed-toe shoes

When travelling to countries with Zika virus outbreaks, use mosquito nets – these include bed nets, stroller covers, crib covers, and carrier nets

Keep doors and windows without screens closed and keep screens repaired and free from holes
Additional Links:
Check out this guide to using DEET on children
Everything You Need to Know to Win the Battle against Mosquitoes
4 Things You Should Know about Zika
About American Pest: American Pest, a part of Anticimex Group, has been providing Integrated Pest Management (IPM) solutions in Washington DC, Maryland, and Northern Virginia since 1925. Our team consists of over 130 brand ambassadors—employees who are experts in pest prevention and customer experience. We credit our longstanding tradition of excellence to our people, who provide quality pest control solutions to over 12,000 homes and businesses and millions of square feet of federal offices and institutions throughout our nation's capital. Contact us for information on mosquito control for the home or business .