Five Things You Did Not Know About Bed Bugs
02/13/2018
Bed bugs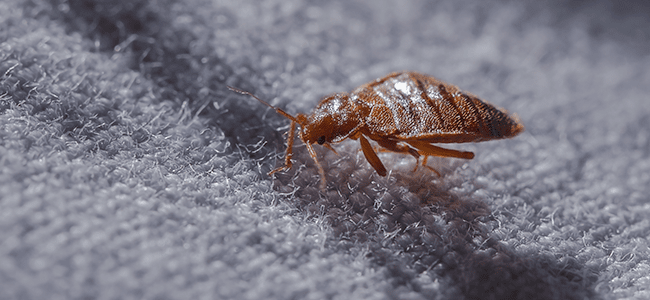 Bed bugs are so much more common these days, due to the increase in travel, natural conditions, and lack of communication about bed bug prevention. Adult bed bugs are tiny flat reddish-brown oval shaped parasites. Their eggs are hardly visible, and nymphs are approximately the size of a pinhead. They feed mostly on human blood in order to survive.
Knowledge is key to keeping your home or business free of annoying bed bug infestations. The only way you would know you have an infestation is the telltale tiny red itchy bite marks, tiny blood spots on linens and night clothing, tiny droppings, shed exoskeletons, or egg casings, none of which are very obvious. Bed bugs can get on clothing, shoes, and personal items when you visit public places like hotels, theaters, libraries, and public transportation. Then they hitchhike to other locations that you go to, including your own home. Knowledge can be power when it comes to bed bugs.
Did you know?
The ideal temperature for an adult bed bug is 70-90 degrees Fahrenheit but can survive in temperatures as low as 32 degrees Fahrenheit and as high as 120 degrees Fahrenheit. In order to kill off bed bugs, the temperature must maintain below 32 degrees Fahrenheit for 2 weeks, or above 120 degrees Fahrenheit for longer than 15 minutes to be effective.

Bed bugs can survive without any food (blood meal) for up to a year in ideal conditions.

Female bed bugs can lay up to 5 eggs a day, and up to 500 eggs in their lifetime.

Bed bugs are not known to spread disease.

Bed bugs cannot fly or jump, and rely on hitching on people or their items to get from place to place.
If you are looking for bed bug control services in Washington D.C., Northern Virginia, and Maryland, look no further, American Pest's EPA-approved and registered bed bug control services include K-9 bed bug detection, thermal heat treatments, and conventional treatment methods. We can find any and all bed bug activity and customize a plan that's right for your situation. We want to help you as soon as possible and will make an effort to provide services the same or next day. Our services are fast and effective, and we strictly follow product guidelines and employ the best practices to ensure the safety of those inside your home or facility. If you want more information about our bed bug services or are experiencing a current infestation, give us a call today!