Know Before You Go: Zika and Spring Break
03/24/2017
Mosquitoes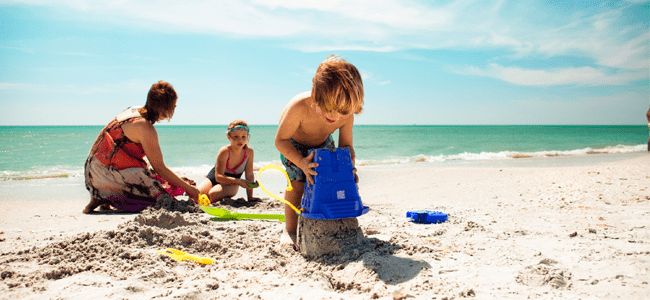 Spring break is here, and many young people and families have planned vacations for some fun in the sun! Unfortunately, with warm weather destinations comes a threat worse than just sunburn: Zika. Be sure to be aware how high your risk of coming in contact with a Zika-carrying mosquito is, so you can be prepared to protect yourself, and get the most out of your vacation.
Florida
Though only a small section of Florida has had locally acquired cases of Zika, this means that there is a possibility of Zika-carrying mosquitoes to spread to other parts of the state.
Miami Beach: Miami-Dade county is the area of Florida in which there were widespread cases of Zika. Last year, it was an "active transmission area", but has since been re-labelled as a "cautionary area". There have not been any reports of Zika cases in Miami in 2017, but it is far more likely to happen again in this area since it has already happened once. Visitors should exercise regular repellent application, and it is advised that pregnant women postpone travel to this area.
Key West: Just three and a half hours south of Miami, Key West does not currently have any Zika warnings. The potential for spread is there, however, so it is best to err on the side of caution.
Orlando: Located in central Florida, Orlando is about three and a half hours north of Miami Beach. Known for its theme parks, many resorts in Orlando offered free mosquito repellent stations to its guests during the outbreak in Miami last year. There is currently no specific warning for this area.
Panama City Beach: Almost ten hours north of Miami, and located on the west coast of the state, Zika carrying mosquitoes spreading to this area seems far less likely than the previous two destinations.
Daytona Beach: Four hours up the coast from Miami, you'll run into Daytona Beach. Like all other cites in Florida, there is currently no warning issued for this area.
The Bahamas
The Bahamas are currently operating under a "Level 2 Alert", meaning that mosquitoes have been reported to be carrying and transmitting Zika in the area. There is a current count of 25 laboratory-confirmed cases that have originated in the Bahamas. 23 of these came from the New Providence district, around the area of Nassau, the capital of the commonwealth. It is recommended that pregnant women suspend travel to this area.
Other US Destinations
Florida isn't the only location in the U.S. in which you have to be wary of Zika.
Las Vegas, Nevada: Win, drink, and be merry! Zika won't touch you in fabulous Las Vegas.
South Padre Island, Texas: Texas is the only other state besides Florida that has reported locally acquired cases of Zika. These occurred around Brownsville, Texas, which is less than an hour from South Padre Island. While the island itself has not had any reported cases, Brownsville is labelled as a "cautionary area", meaning the capacity of the effect of Zika in this area is unknown, but pregnant women should postpone travel.
Punta Cana, Puerto Rico: All of Puerto Rico is currently labelled as having a "Level 2 Alert" of Zika-carrying mosquitoes. This means that mosquitoes in the area are definitely carrying the virus, and have passed it on to humans. It is recommended that travelers take "enhanced precautions" when going to this destination. This means not just carelessly applying bug spray once a day, but actively working to cover as much skin with clothing as possible, and regularly applying repellent.
Los Angeles, California: If Beyoncé can go out and about while carrying twins, so can you! There are no reports of mosquitoes carrying Zika on the west coast.
Mexico
Within Mexico's 32 states, there have been 8,127 cases of Zika since 2015.
Puerto Vallarta: This popular spring break destination, located along the western coast of Mexico, is found within the state of Jalisco. There have been 91 confirmed cases of Zika in Jalisco since 2015. This area is operating under a "Level 2 Alert", meaning that enhanced caution should be taken in terms of protecting oneself from mosquitoes, and that pregnant women should suspend travel to this location.
Cancun: Cancun is found within the state of Quintana Roo, which is located on the eastern tip of Mexico. There have been 367 confirmed cases in this area, and 1,196 cases in neighboring Yucatan. Cancun is also under a "Level 2 Alert".
If your spring break destination is not listed here, be sure to check out the CDC's website, which allows you to specifically search areas and learn about the risk of contracting Zika. Be sure to read more about the Zika virus here, with tips from our entomologists. If you have concerns about mosquitoes around your home, be sure to contact the experts here at American Pest to help keep your yard pest-free for the spring and summer.
Learn More About Our Mosquito And Tick Control Program!