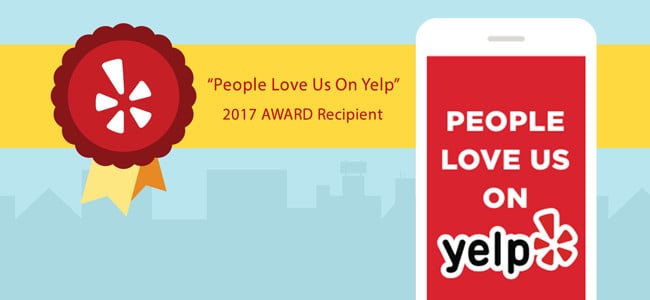 American Pest is pleased to announce that it has received the 2017 "People Love Us On Yelp" Award! This award only represents a fraction of businesses, each who have received numerous trusted reviews that averaged a high satisfaction ranking among Yelp users. American Pest is honored to receive this prestigious award along with the 2016 Angie's List Super Service Award for the 7th consecutive year.
Receiving honorable awards such as this adds to the company's online reputation and further extends its reach. "We are committed to providing our clients with a quality service," says Miranda Sherman, Marketing Manager for American Pest. "When we receive feedback on websites such as Yelp, Angie's List, and Google, we are given information that helps us to better serve our clients. We believe all feedback serves a purpose, whether it's great, good, or mediocre, it can be used to understand the needs of our clients and help direct the future decisions of the organization."
American Pest upholds high standards for its employees and continuously solicits 3rd party feedback to improve the quality of its services and the knowledge and professionalism of company employees.
"Plus, when it comes to customer satisfaction, you'll be hard pressed to find a business more committed to customer satisfaction than American Pest," notes Miranda. "Each year we contract with a third party to survey our clients and use the data to improve client communication, operation standards, and service quality."
In response to customer feedback, American Pest recently launched its first formalized Quality Control Program. The program features quality audits that measure the consistency of service at customer facilities, the professional demeanor of its employees, work safety, and customer engagement.
"These audits will be conducted routinely by our most seasoned pest control personnel," points out Miranda. "Many of them have exemplary leadership abilities and have been promoted to the ranks of field supervisors and quality control officers to help uphold our reputation for excellence."
In addition to boosting quality control, American Pest conducted a substantial reevaluation and rerouting of its service territory this spring. According to Miranda, rerouting strives to create tighter, more precise travel distances in high-density areas of the company's service territory. As a result, American Pest now offers faster turnaround times and responds to same-day emergency service requests from its clients.
American Pest's business profile features ratings that are updated regularly on Yelp as new customer reviews are submitted. Businesses are rated on a 1-5 star scale and are then given the opportunity to leave comments about their experience.