Tick Spray For Your Yard
09/18/2017
Ticks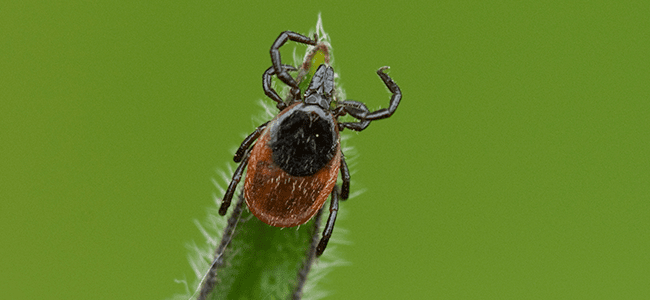 As tick-related diseases continue to increase, along with new stories of people suffering from Lyme disease, Rocky Mountain spotted fever, Southern tick-associated rash illness, and other illnesses spread by contact with ticks, more and more people are turning to pest control experts for a solution in their backyard. When ticks start coming in on pets, kids, and even the adults living in a home, families want to know that their yard has the right treatment to get the job done. Here's what you need to know about tick spray for your yard.
Does tick spray really work?
Yes. Tick spray really works. When you have your yard treated with the right products, in the right amounts, in the right intervals, tick spray reduces all ticks present in your yard and kills new ticks that come into your yard for 30-45 days after the treatment depending on the weather during that time. While getting tick sprays for your yard is important, it's also important to retreat to keep the ticks away as the products only last for a little over a month.
Getting rid of ticks
Can you do it yourself? Rather than explain why DIY efforts fall short, let's talk about why hiring a professional is the better solution.
An educated pest control technician uses products that are proven to effectively reduce ticks. Understanding tick pesticides and how they work is important in effectively getting rid of ticks.
An educated pest control technician knows where to spray. There are many species of ticks and many ways they can come into a yard. Understanding the habits and habitats of these biting pests is vital in applying products where they will have the most impact.
An educated pest control expert is trained to follow governmental safety regulations and best practices established by industry experts. You're not going to have to worry about trading one threat for another like you would with the random chemicals that come from over the counter sprays.
Getting rid of ticks with tick pesticide isn't an easy task. There are lots of ways to do it wrong. And, with such an important matter, this is definitely something we want to do right the first time. Maryland and Virginia are expecting a heavy tick season this fall, so be sure to have your tick control plan in place soon.
At American Pest, we offer a stand-alone tick mitigation service that can take care of those ticks. We also offer mosquito and tick program that targets both those pests all season long for one low monthly fee. Contact American Pest with any questions or to schedule service today! We'll help you get the right solution in place to effectively manage this threat.