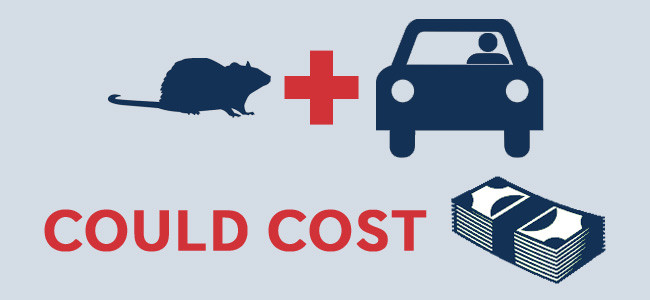 The temperatures are beginning to drop throughout the Maryland, D.C., and northern Virginia area and that means that rodents are all looking for somewhere to cozy up, stay warm, and nest. Each winter clients will call us about them getting into their homes, but recently, we're seeing something a little different. Rodents are starting to squeeze into vehicles to stay warm. You may think this isn't a huge deal, however, mice, rats, and even squirrels across the area are causing costly damage to vehicles!
Why are rodents chewing wires?
After rodents get access to your vehicle that is protecting them from the wind, rain, and even the cold, they are also taking advantage of the plant-based coating that is covering the wires. This coating is proving to be a tasty treat for rodents, causing them to chew through these wires. This behavior is putting drivers at risk and is even costing car owners hundreds in repairs.
Tips to prevent rodents from getting into vehicles
Avoid parking in rodent prone areas- like wooded areas and tall grass
Remove food sources from vehicles-
This includes French fries that fell under your seat and even packaged snacks because rodents can chew through packaging.
Close any openings-
Some vehicles have been shown to have openings leading to trunks and glove boxes. Try to google your car manufacturer and rodent issues to find common risky entrances to your vehicle. You can often patch these areas with some wire mesh or steel wool. Keep in mind that mice can fit through a hole the size of a dime.
Wrap wires with a tape that doesn't invite rodents-
Ask your mechanic or local auto store for recommendations for this. It may cost around $10 now, but it could save you hundreds in repairs.
If you are having rodent issues around your vehicle, your home is also at risk of rodent infestations. Along with that, if you have rodent issues around your home, your vehicles are also at risk. Call the pest professionals at American Pest and ask for an inspection. Express your concerns and we will help you protect your property from rodents and other pests that could invade your property!