Why Call American Pest If You've Seen Spiders Around Your Home
02/12/2019
Spiders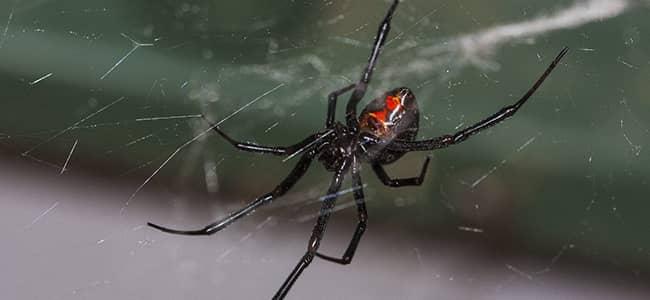 Are you seeing spiders around your home? If so, there is something you should know. Those spiders may not stay on the outside of your home. There are many spiders that have no problem getting into our Maryland homes and there are many ways spiders can do so. Some of the spiders that get in can present a threat to you and the loved ones living with you. That is why it is important to have one of the licensed and certified pest professionals from American Pest take a look and give you some guidance on home spider protection.
The Dangerous Spiders of Maryland
In Maryland, we have two spiders that are considered dangerous. You probably know them by name. They are the brown recluse spider and the black widow spider. But they don't present the same threat level. Black widow spiders cause a bite wound that can be quite painful and the symptoms associated with these bites are chills, fever, weakness, sweating, abdominal pain, nausea, difficulty breathing and headaches caused by a change in blood pressure. A bite wound from a brown recluse will have an ulcer in the center, surrounded by a purple discoloration of the skin. The symptoms associated with these bites are chills, fever, weakness, joint pain, nausea and in rare cases seizures or coma. But the greatest threat is the necrosis that can occur. If a brown recluse bites you in a sensitive location, such as the eyelid, it can become a serious threat.
You Might Be Surprised To Know
Many people, even some individuals who claim to be professionals, have a hard time distinguishing a brown recluse spider from other brown spiders. Studies have been done on spider identification and the brown recluse seems to be a spider that is misidentified quite a bit, even by some in the pest control industry. This, of course, should never be the case. A brown recluse spider has a distinctive mark on its back that looks like a violin and it is about the size of a quarter. Being brown and having four legs does not make a spider a brown recluse. As with any pest, accurate identification is very important, the professionals at American Pest are continually trained and we take great pride in their abilities.
A Few More Reason to Choose American Pest
We've been around since 1925. In almost a century of doing business, we've learned a lot about taking care of our customers.
We are an Angie's List Super Service Award winner. That isn't easy to do.
We use advanced Integrated Pest Management (IPM), green technologies, and EPA-approved products to solve spider problems.
We are an award-winning pest control company that has earned recognition from the United States Department of State and the EPA.
We have worked hard to maintain an A+ rating with the Better Business Bureau.
General Guide For Avoiding Spider Bites
Since we have dangerous spiders in Maryland, we should all be taking steps to avoid being bitten. Here are a few suggestions:
Use a flashlight when going under external structures such as decks, patios, and porches. These are common areas for dangerous spiders to establish themselves.
Wear gloves when working in your yard. These spiders hide in brush and around rocks.
Never put your bare hand into a hole. This is a particularly common place to find brown recluse spiders.
Wear footwear when walking around inside or outside.
Shake footwear, clothing, and towels before use.
Check under your covers before sliding into bed.
Wear gloves when moving boxes around in storage.
Be careful when opening boxes that were in storage, especially in external storage areas.
Add lights in secluded areas of your home to make them less habitable for dangerous spiders.
Apply sticky traps in secluded areas to help with the monitoring of spider activity within your home. Understanding how active these spiders are in your home will inspire you to take the appropriate amount of caution.
For more information about dangerous spiders and other spiders that live in Maryland or to request service, reach out to us today. The QualityPro Certified team at American Pest is standing by to help.