Why You Should Consider Tick Control
02/22/2018
Ticks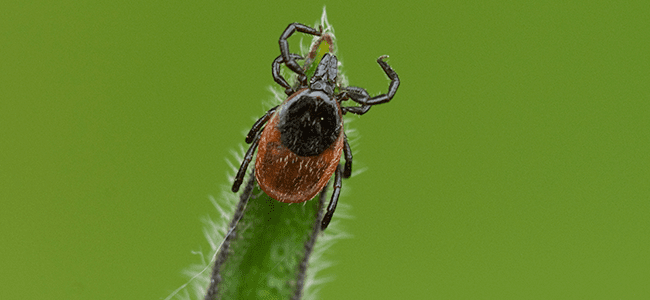 We have all likely heard the horror stories associated with ticks, but one thing many of us aren't familiar with is how many different kinds of ticks there are, and what different problems they can impose. That's right, there are several different species of ticks, and each one can introduce different problems. Ticks are not only a nuisance, but they also present real dangers to you, your family, and your pets. Let's take a look at the world of ticks.
What do ticks look like?
The tick is an external parasite, meaning it feeds on the blood of its host by attaching to it. Ticks feed mainly on animals such as mice, dogs, rabbits, raccoons, and deer. The 'black legged tick' or 'deer tick,' is dirty orange in color, has a flattened body, and is oval shaped. It has a soft exterior shell and a pointed mouthpiece that is clearly visible. Male ticks can measure 2 mm while female ticks come in at 3 mm, though both sexes will grow after feeding. The 'brown dog tick' is considerably different. Coming in at an average size of 3 mm, dog ticks are known to grow substantially after they feed, reaching a whopping 12 mm! Also when it feeds, it changes color. While usually found as a reddish brown color, after feeding it is more of a grayish, or olive color. It too has a flattened body with parts of its mouth exposed and visible from above. The males are known to have small sporadic pits on their backs.
Why tick control is important:
Though small, ticks pack a pretty considerable bite. They are associated with a variety of diseases, and none of them do animals or humans any good. Ticks are known to carry diseases, and when they bite, they transmit these diseases through their saliva, infecting the host. Deer ticks are commonly associated with Lyme Disease, human granulocytic, and babesiosis. Though rare, in some cases, one tick can be infected with all of them and could pass them all along at the same time. It should be noted that Lyme disease especially is a very serious and life-changing disease. It has affected the lives of hundreds of thousands of people, and with more than 30,000 reports of Lyme disease coming in each year, the issue at hand is far bigger than the ticks themselves. Dog ticks, meanwhile, are a nuisance to its host. They are known best to attach to animals and rarely present a threat to humans. Like deer ticks, dog ticks are also known to carry a variety of diseases, infecting their host as they feed.
Our tick control solution:
It's easy to see the importance of keeping ticks at bay, which is why here at American Pest we offer a team of professionals that are specially trained in both their biology and habitats. Upon our initial service, we will design a unique treatment plan based on your specific needs and your specific yard. With our tick control program, we include monthly treatments that focus on everything from decks and fences to lawns and wooded areas, and we have the ability to provide seasonal coverage to assure you that tick and other pest populations on your property are drastically reduced. If you have questions, contact us today and we will be more than happy to help answer them!