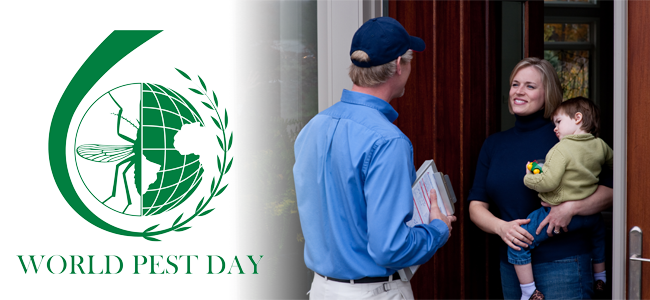 It is World Pest Day and we are excited to share it with you! This Multinational celebrated holiday was created to raise awareness of how professional pest management helps protect you and your loved ones quality of life.
The National Pest Management Association (NPMA) joins the Federation of Asian & Oceania Pest Management Association (FAOPMA), Chinese Pest Control Association (CPCA), and the Confederation of European Pest Management Associations (CEPA) in support of this event.
How Does Pest Control Protect Me?
Protect Your Home
Many homeowners are concerned about pests mostly because they simply don't want them in their home. However, some pests can cause damage to your home itself. Termites, Carpenter Ants, and other wood-destroying insects are good at causing expensive damage to a home, often while going unnoticed until it is too late. Thanks to the always evolving pest control industry there are steps you can take to protect your home and rest assured that it is safe from these pests.
Protect Your Food
While you may not think much of a few pests here and there in your home, they may be a sign of an infestation that could be contaminating your food. For example, rodents and cockroaches often get inside unsealed food containers including cereal boxes, chips, and more.
Also, restaurants and other food service businesses need regular pest control. When there is that much food that is regularly being stored and disposed of, rodents and other pest are excited to take advantage of the opportunity. Regular pest control in these businesses helps protect the customers by keeping the food and prep areas safe and sanitary.
Protect Your Health
Possibly one of the most important things that we protect is your health. Many pests can put you and your loved ones at risk of diseases and more. For example, roaches can cause Asthma, ticks carry Lyme disease, mosquitoes carry a variety of illnesses including West Nile and Zika Virus, and rodents carry Hantavirus which can be fatal to humans.
It is clear that the pest management industry is an important factor in protecting people. Along with regular pest control comes a peace of mind that allows homeowners and business owners to rest assured that they are protected. If you or someone you know needs pest control, give American Pest a call today!