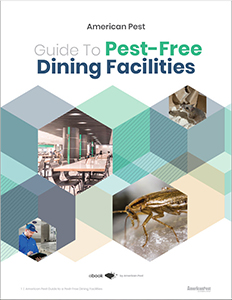 When it comes to pest problems in colleges and universities, whether public or private, cafeterias and other dining facilities are one of the most common targets for nuisance pests and rodents of all shapes and sizes. These areas also provide unique challenges for the staff charged with maintaining them, as pest infestations can lead to severe consequences in the form of food contamination, disease, and other problems.
Download this guide to learn more about common pests associated with dining facilities, what issues they pose and how to handle them.
To maximize effectiveness and share this information we recommend sharing the guide in the following ways:
Email to Dining Facility Staff
Store a printed copy with Dining Facility Staff
Email to Custodial Staff
Email to Educators
Store a printed copy in each building along with a with Pest Logbook
Contact Me About Pest Control
Fill out the form and recieve feedback in less than 5 minutes. For immediate service please call.


Questions about pests? We can help. (855) 212-3677