The Complete Guide
To Controlling Stinging Insects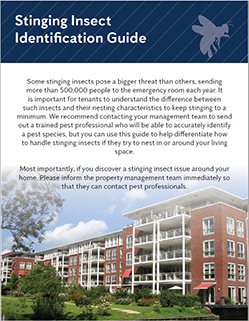 Property managers and office staff face unique challenges when dealing with day to day tasks. Specifically, stinging insect complaints from tenants tend to be a problem most property managers discuss with pest professionals. It is essential for property managers to stay alert and keep an eye out for areas of the property where stinging insects frequent because they are one the everyday annoyances faced by the industry.
Keeping stinging insects away from tenants requires an integrated pest management approach that incorporates precautionary steps to reduce and eventually eliminate their nesting and hiding options around the property. Tenants may report a carpenter bee activity and may not be aware that male carpenter bees are aggressive but don't have a stinger to sting in the first place. These different characteristics are beneficial to know in order to keep tenants at ease when they travel throughout the property.
This pdf explores some of the area's most common stinging insects and their habits, as well as a strategy for tenants to understand which pest is worth the scare. With assistance from your pest management professional, the management team and tenants can better understand these nuisance stinging pests and when to contact the office for assistance.
Contact Me About Pest Control
Fill out the form and recieve feedback in less than 5 minutes. For immediate service please call.


Pest problems? Give us a call for your free site evaluation. (855) 212-3677